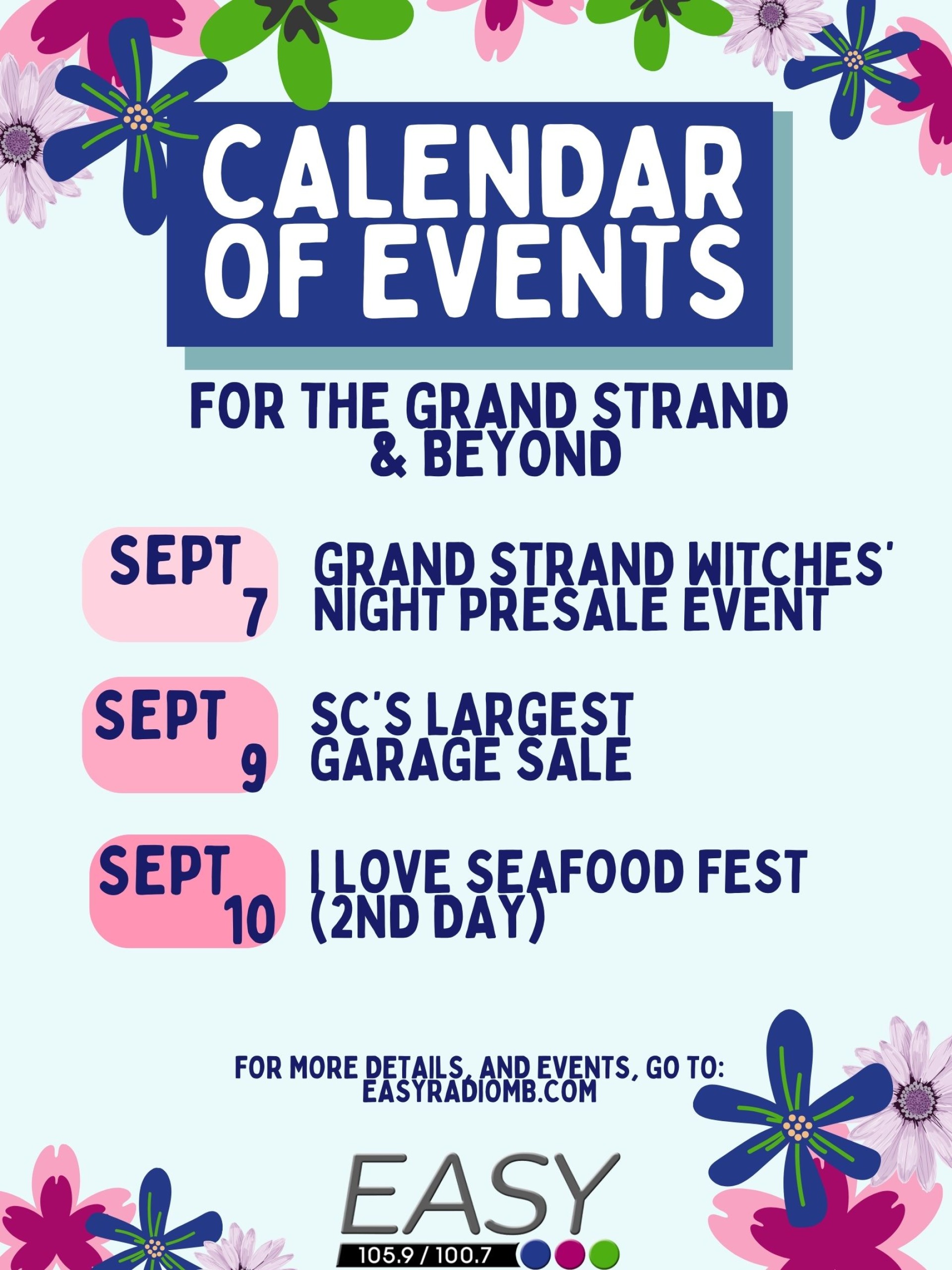 Mustang Week in Myrtle Beach
Tequila Tasting Dinner at Conch Cafe in Murrells Inlet
2023 Grand Strand Witches' Night Presale Event at Liberty Tap Room in MB
South Carolina's Largest Garage Sale at the Myrtle Beach Convention Center

Saturday, Sept. 9th; 7am to 2pm
Come experience, and enjoy, the "garage" sale
Get all the information you need online

The Gullah Geechee Junkanoo at Brookgreen Gardens in MI
I Love Seafood Fest at Burroughs & Chapin Pavilion Place in MB
End of Summer Plant Sale with SE Rare Plant Market at Inlet Dispensary in MI

Sunday, Sept. 10th; 2pm
Sellers from SC & NC will be there with a variety of plants and plant-related products
Get details on FB

Free September 11th Memorial Concert at Winyah Auditorium in Georgetown

Monday, Sept. 11; 7pm
It's a concert with the PI Concert Band, in honor of the lives lost on September 11th
Find more info on FB

Myrtle Beach's annual Remembrance Ceremony at 9/11 Unity Memorial in Warbird Park

Monday, Sept. 11th; 1pm
The memorial features a steel beam from the North Tower of the World Trade Center
Get details...

The City of North Myrtle Beach's 9-11 Memorial Service at the Horseshoe

Monday, Sept. 11th; 7pm
The service will include color guards, patriotic music, speakers, and special dedications
Find more information online
Have an event that you'd like for us to help promote? Get in touch!